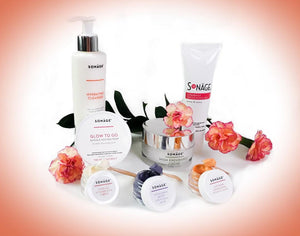 Skin Care - Spa-Style - Home Complete Treatment Kit
Regular price $139.00 Sale
With this group of products you can have a Spa-style skin care treatment at home! Made in USA.
For over 30 years, these products have been my personal skin care regime and I love how my skin looks today. 
"Spa-Style Home Treatment" is valued over $148!  Now packaged together at  just $138, plus free shipping, you also receive complimentary sizes of two masks and an additional creme.  A "how-to" guide comes with each order. Here's what's in it:
     *Hydrating Cleanser -$26.  Anti-oxidant daily cleanser hydrates, softens & nourishes the skin without stripping the skin of essential oils. Gently removes makeup, including stubborn mascaras.  (200 ml)
     *Gommage Exfoliating Gel  - $30.  Eliminates surface dead skin, leaving skin bright and clear so it can "breathe". Also can be used as a balancing, hydrating and firming mask. Easy directions included. (30 ml)
     *Glow-to-Go Glycolic Acid Peel Pads - $30.  AHA pads renew, brighten and even skin tone. Helps with scar repair, acne and hyper-pigmentation; builds immunity. Skin is renewed and ready to absorb beneficial products. (30 pads)
     *High Endurance Creme - $58. Promotes vital tissue repair and cell growth; builds up immunity, rejuvenates and stimulates the skin. Powerful antioxidants stabilize free radicals to combat environmental aging, calms redness. (50 ml)
     *Patagonia Berry Stem-Cell Mask - Complimentary trial size included. Powerful antioxidants from plant stem cells increase cell turnover, helps reduce fine lines. Skin is brightened, clarified and hydrated.
     *Saffron Energizing Vitamin Mask - Complimentary trial size included.  Rare Kashmiri saffron, often referred to as "Red Gold", naturally imparts hydration and signs of aging.  Vegan.
     *Lumenez Vitamin Rich Creme - Complimentary trial size included. Rich, restorative moisturizer with orchid extract visibly improves skin luminosity to give a long-lasting glow and hydration. Use day or night, depending on your skin. Vegan.