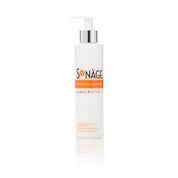 Skin Care - Hydrating Cleanser
Regular price $26.00 Sale
Hydrating Cleanser
Anti-oxidant daily cleanser hydrates, softens & nourishes the skin without stripping the skin of essential oils. Gently removes makeup, including stubborn mascaras. 
This gentle anti-oxidant lotion containing essential oils and botanical extracts for hydrating and softening the skin.  Counteracts dry skin with its high content of anti-oxidants.  Pleasant very light "peachy" aroma from natural ingredients.  All skin types. 

To use:  Apply morning and night on fingertips with cotton ball, massage gently, and rinse with water.  Recommended for makeup removal. 

Pump bottle:  Net contents 200 ml., 6.7 fl. oz.
$26.