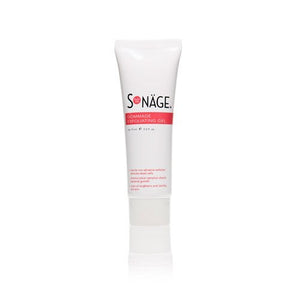 Skin Care - Gommage Exfoliating Gel
Regular price $30.00 Sale
Gommage Exfoliating Gel
Eliminates surface dead skin, leaving skin bright and clear so it can "breathe". Also can be used as a balancing, hydrating and firming mask. Easy directions included. (30 ml).
Unlike other exfoliating products, this gentle gel has no "gritties" to microscopically scratch and tear your skin, which causes it to microscopically scar when it heals. Through the years, your skin will remain soft  and smooth as a baby's, not textured and rough.
This product gently removes the dead outer skin cells and impurities without harming delicate skin tissue.  By producing an enzymatic exfoliation, the gel softens your skin and helps regulate oil secretion.  Your skin will be soft and smooth after using.  All skin types.
Easy to use!  After cleansing, use to exfoliate dead skin cells by applying a moderate amount, allow to almost dry  ("tacky" to the touch), and remove by gently massaging away the product.  Follow with your choice of  toner.  Apply your choice of skin creme, which will be easily absorbed by fresh skin since the dead cells are no longer there.  Use at least once a week.

This product may be used as a balancing hydrating and firming mask by leaving on for 20 minutes or over night.

Note:  I love to use this gel when I travel, especially by air, since skin is more prone to dryness.  Use it whenever you feel you have extra need for exfoliation or hydration.  You can't over do it since it is beneficial to the skin. 

 Tube:  Net contents 75 ml./2.5 oz.
$30.